July 24-27, 2023 | Denver, CO
AOTA Approved CE
1. Overarching Learning Objectives:
Identify the role and practice patterns of all professionals involved in low vision rehabilitation including, but not limited to: MD, OD, OT, CLVT, CVRT, COMS, TSVI
Identify the latest low vision devices and strategies being used in the rehabilitation of patients with visual impairment
Discuss patient data in order to determine appropriate interventions for improving quality of life outcomes in patients with visual impairment.
Identify concepts related to low vision rehabilitation relevant to patient education.
Identify appropriate resources toward which to direct patients with visual impairment.
2. Target audience:
Ophthalmologists, physicians, optometrists, occupational therapists, occupational therapy assistants, low vision specialists, low vision professionals
3. Educational Level:
Introductory
4. Category:
OT Service Delivery, Foundational Knowledge
5. Number of CEs available to OT practitioners:
24 Contact hours, 2.4 CEUs
6. Disclosures:
Instructor disclosures will be provided at each presentation.
7. Completion Requirements:
Participants must attend the event and complete the post course evaluation to receive credit. Participants must pass a post-event exam with a score of 70% or greater. Attendance will be verified by room monitors. Partial Credit will be awarded for time of course attendance with completion of post-evaluation/post-exam.
8. Special needs requests or accommodations:
Please contact
vision2023denver@kinsleymeetings.com
for any accommodations or special needs requests.
This professional development activity is being provided as a co-sponsored event:
Vision 2023
vision2023denver@kinsleymeetings.com
This multidisciplinary conference brings together professionals and researchers from around the world to share ideas and learn from each other to improve the lives of people with visual impairment or blindness.
AOTA Approved Sponsor
Aspire OT
info@AspireOT.us
www.AspireOTed.com
Aspire OT provides continuing education, coaching and consulting Just for OT.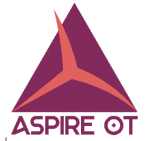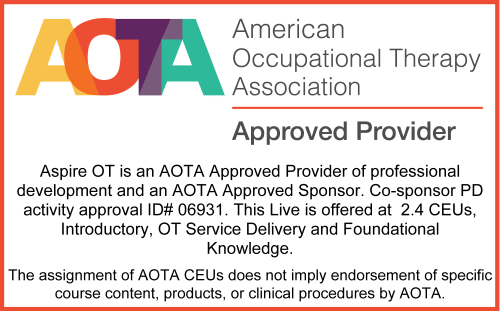 Agenda Outline
Click
here
to view the agenda.
Cancellation Policy
Full refund (less $50 processing fee) if canceled before April 30, 2023. Cancellation request must be received in writing at
vision2023denver@kinsleymeetings.com
in order to be processed.
No refunds for cancellations on or after May 1, 2023. Registrations may be transferred to another person; please email
vision2023denver@kinsleymeetings.com
with the new attendee's contact information.
REGISTER NOW